Pediatric Dentistry in St. Louis, MO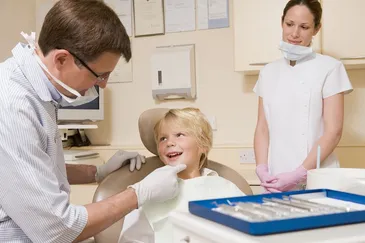 Nothing is more important, or more rewarding, than caring for little, growing smiles. It's also just as important that your child is getting the proper dental care they need to protect their developing teeth and gums. This is where our St. Louis, MO, dentist, Dr. William Whitson comes in. Just as you turn to a pediatrician, who specializes in providing medical care to kids and teens, you'll also want to turn to a dentist that specializes in providing dentistry to children and teens of all ages. Dr. Whitson and his staff have undergone unique and in-depth training to be able to deliver the customized services and treatments that your child needs.

Visiting a Pediatric Dentist for the First Time
The American Academy of Pediatric Dentistry recommends that children visit the dentist after their first tooth erupts, or by the time they turn one year old (whichever occurs first). The first visit will be a long one because it also gives our team a chance to really get to know you and your child.

We also want to make sure that your little one feels comfortable and at ease at our office. Nothing is more important than creating a good first impression and a positive first experience with the dentist so that your child feels comfortable coming into our office for routine checkups.

The Benefits of a Pediatric Dentist
We understand that your child's smile needs are completely different from your own dental needs. We understand that because we've undergone the specialized training and fieldwork to make sure that we provide your child with the individualized care they deserve for their rapidly developing smiles. One of the benefits of turning to our team is that our office is fully equipped for kids and teens, which means that the atmosphere is welcoming and kid-friendly in a way that general dental practices usually aren't.

Another benefit of turning to our pediatric dentistry team is that we really get to know your child, their lifestyle, and their history. This means that we will be able to provide your child with more tailored care that is safe and effective. Does your child have allergies? Are they dealing with certain preexisting health problems? This is something that we will know, along with the rest of their detailed medical history, so we can alter our services and treatments to match your child's unique needs.

Talk to our pediatric dental team today
Are you looking for a pediatric dentist in St. Louis, MO? Whether you've just started your search or you're ready to schedule an appointment, our team at Concord Dental Group is excited to welcome you to our practice. To schedule a consultation with our pediatric dentistry team, call us today at (314) 842-2038!