Single Visit Crowns in St. Louis, MO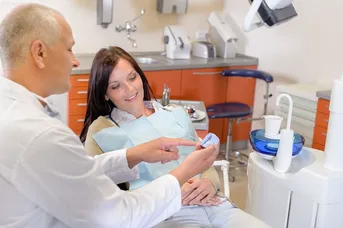 Crowns are synthetic caps, usually made of a material like porcelain, cemented or bonded on the top of a tooth. Crowns are typically used to restore a tooth's function and appearance following a restorative procedure such as a root canal. When decay or fracture of a tooth is advanced such that large portions of the tooth are missing, crowns are often used to restore the tooth.
A crown can prevent a cracked tooth from becoming worse or can hold a tooth together when an existing filling is becoming loose or dislodged. Crowns can also be used for cosmetic reasons when a tooth is stained or discolored and needs to be restored to its natural appearance.
When replacing a missing tooth, a crown is the definitive restoration placed on an implant, and multiple crowns can be used to support bridgework.
With the use of our state of the art Sirona CEREC technology, we are able to offer beautiful one-appointment ceramic crowns in many instances.
Want to learn more about CEREC Single Visit Crowns from Concord Dental Group?
Call our St. Louis, MO office at (314) 842-2038 today to book an appointment